First steps into WebClient
Follow the steps below to access IceWarp WebClient.
Enter the URL received from the administrator into the address bar of your web browser. You will see the login screen.

In the login screen, enter Username and Password.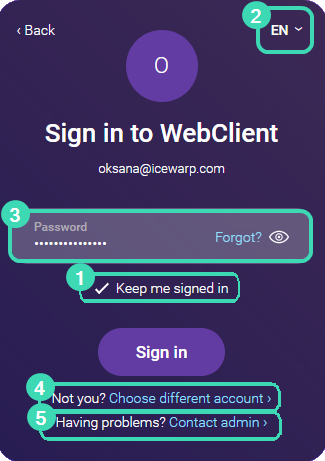 Figure.WebClient login dialog.

To keep your username and password saved, check Keep me signed in checkbox and press Enter or click Sign in.

To change the language of WebClient, go to language selection drop-down menu and choose a language. In case this account is shared with another users, the language will be changed only for the present user.

To recover forgotten password see Forgot Your Password

To sign in with different account, click Choose different account and repeat signing in.

In case there are any problems, it is possible to Contact Administrator
Switch to tablet interface
If you access IceWarp account from your mobile device or tablet, you can switch to a relevant interface when you are at login screen.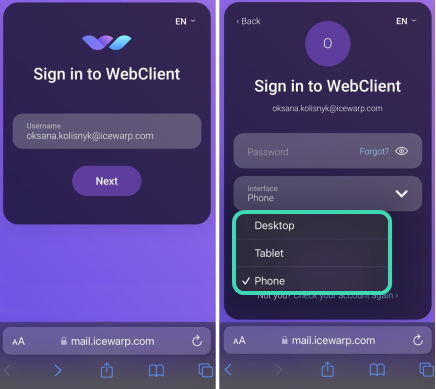 Figure. Mobile interface.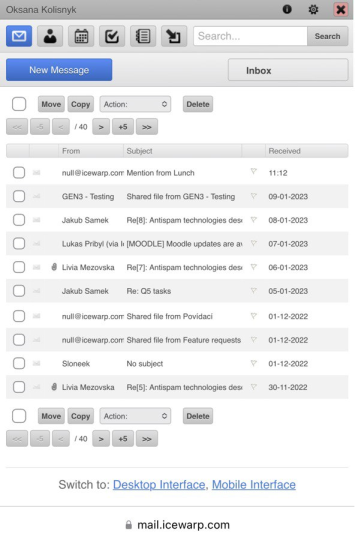 Figure. Tablet interface.
To facilitate your work with a tablet interface, see Tablet Interface Shortcuts.