Conferences
IceWarp offers WebRTC powered voice and video calls so you can arrange non-text based communications with individuals or groups directly from IceWarp's chat window. Integrated Voice over IP enables encrypted communication over the internet or a company´s private network. Complete text messaging is included, even for group messaging.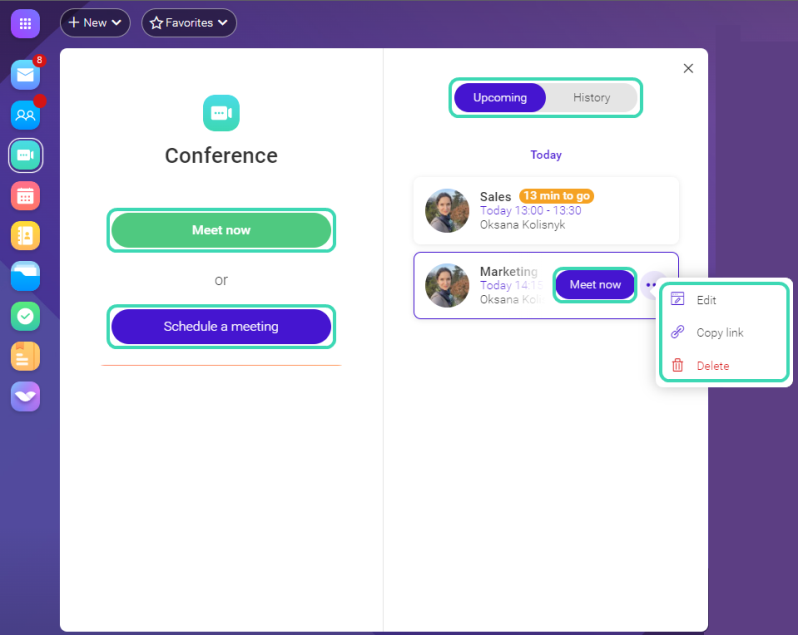 Figure. Conference.
Note: In order to be able to access Conferences the following outgoing ports must be available on client side: 443/TCP, 4443/TCP, 10000/UDP, 19302/UDP.
In general, client should not block UDP traffic at all, have WebRTC traffic enabled (ICE, STUN).
There are the following options:
To start a conference immediately, click Meet now.

To schedule a conference, click Schedule a meeting.

You can always find all your planned future conferences in the Upcoming tab. If you want to start a scheduled conference immediately, hover over it and click Meet now. To edit the scheduled conference, click next to its name and select Edit. To invite your colleagues to a conference, click to copy the link and send it via Instant messaging.

To access finished conferences, go to History tab. In case you enabled recording, all your records are also stored there.
How to Guides
Video calls support:
One-to-one video calls using your computer with webcamera. A pop-up window asks attendees to confirm webcam access before a call starts and after accepting you can see each other in a quality video call.

Multi user video calls where external contacts can connect to a meeting through one-time web access or a dial-in number.
Note: Video calls with Safari are not supported.