Account
If you click an account, you will get access to the general information about the user, permissions and rights, client applications management, subscription, etc.,
Click

> User & Domains > select a domain from the list > click the account to access settings of the selected. (See Domain)

Info. Click to open the user personal details: name, avatar settings, account type information, subscription plan, etc.

Card. Click to fill in the account details: name, positions, birth date, phone number, email, home address, etc.

Email. Click to set the forwarding address, responder, spam reports, actions with the spam, etc.

Limits. Click to set the limits for the account: disk quota, account expiration date, max message size, etc.

Rules. Click to set the rules for the account.

Mobile Devices. Click to find the list of synchronized devices.

Account Statistics. Click to see the statistics of selected account.
Info
General overview of the account: as personal details, permission and rights, quotas, status of 2-factor authentication (enabled/disabled) and client applications.
You can change the Account type to give the user more rights.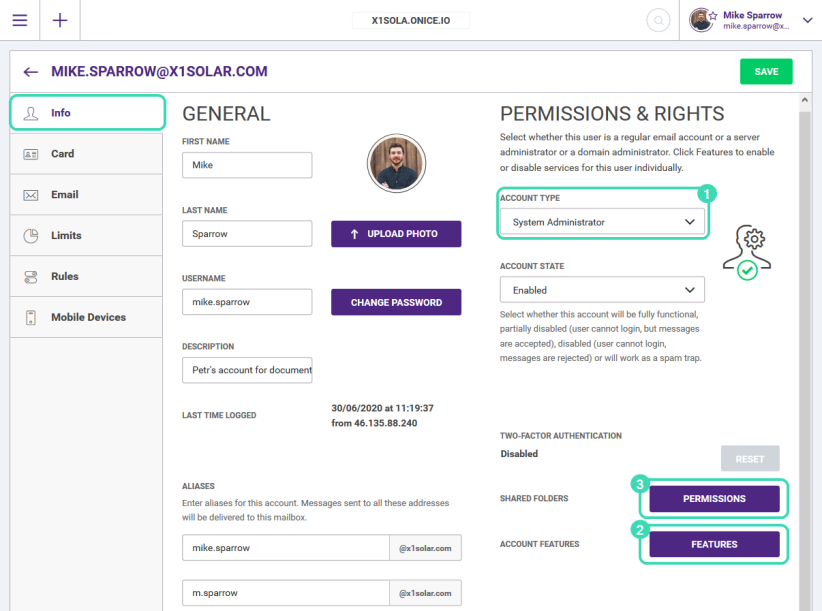 Figure. Info tab.
Account type
There are four types of accounts that differ in their rights.
User can manage only his own account settings and preferences. There is no possibility to access WebAdmin options.
Domain administrator can manage a domain to which his account belongs, and users of that domain. WebAdmin options available for this type of user are WebClient Domain Options and Users management.
Web administrator can manage a server to which his account belongs, and domains within that server. All WebAdmin options are available for this type of user.
System administrator can manage all servers and domains available according to the purchase plan. All WebAdmin options, as well as Administration Console are available for this type of user.
If you are administering IceWarp Subscription model, you can manage plans here in Permission & Rights.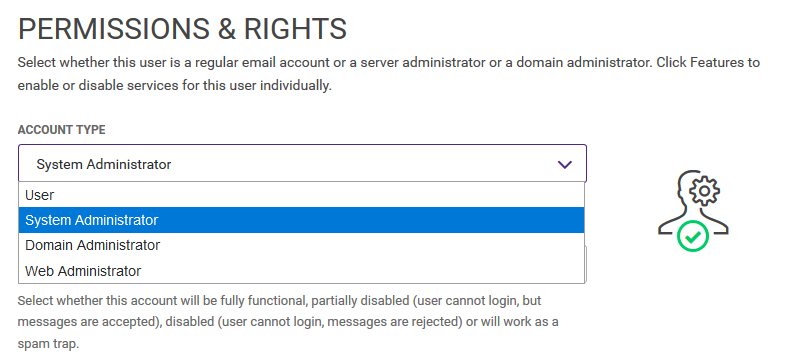 Figure. Permission & Rights section.
Note: You can combine different types of users within one domain so each of them can use different features according to the selected plan.
Features
Click to manage the domain features and options.
Features tab provides access to Conferences, Recording, ActiveSync, Desktop Client.
System options tab provides access to Email (Archive), Security (Cyren Anti-Spam), Anti-Virus, Quarantine, Instant Messaging, Text Messaging, TeamChat, WebClient storage and WebDocuments.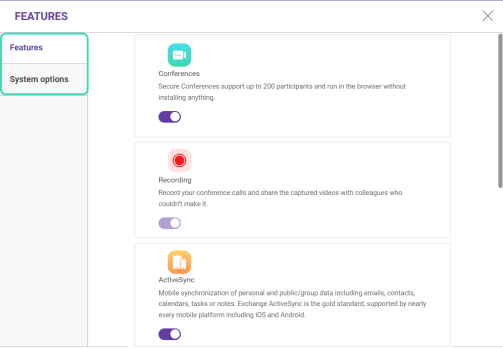 Figure. Features dialog.
Permissions
Set account permissions here: sharing of inbox, calendar, contacts, files and other folders.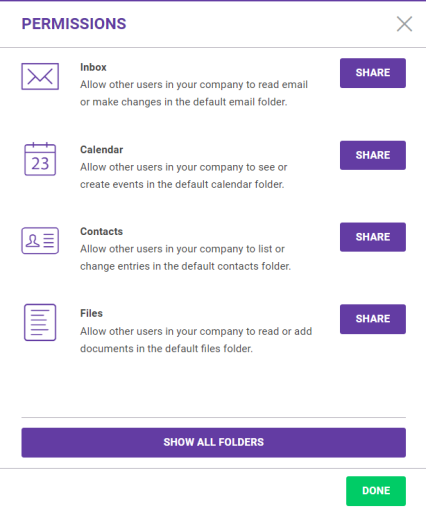 Figure. Permissions dialog.
Card
Enter the personal information about the account. All fields are optional.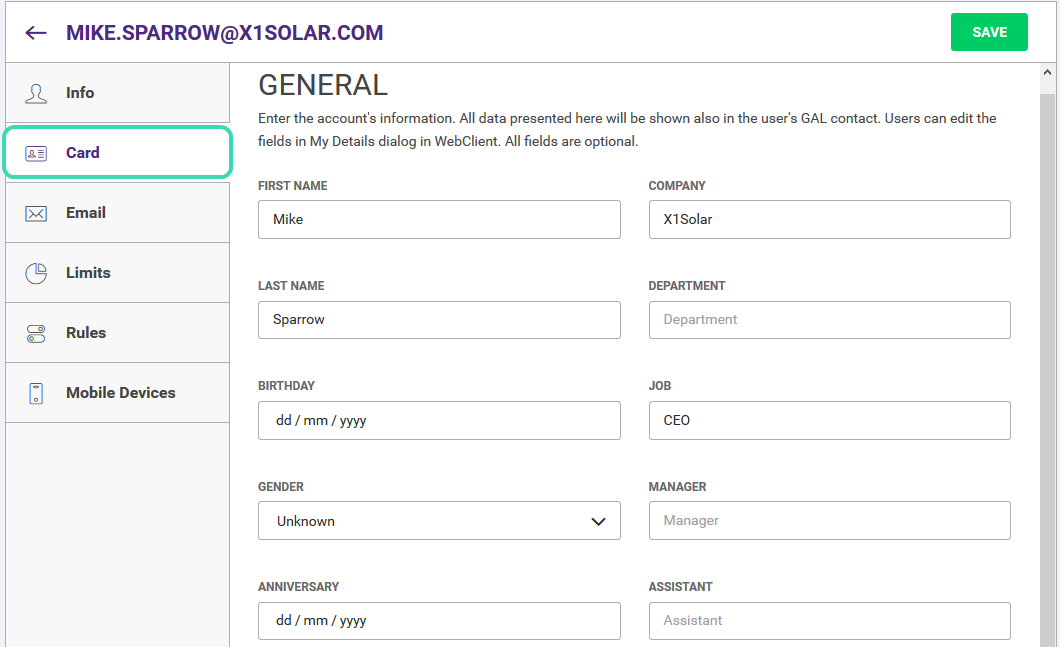 Figure. Card tab.
These fields can also be filled in the WebClient interface. (See My Details)
Email
Set the address where messages are to be forwarded or copied to. Also you can set the responder mode and Antispam.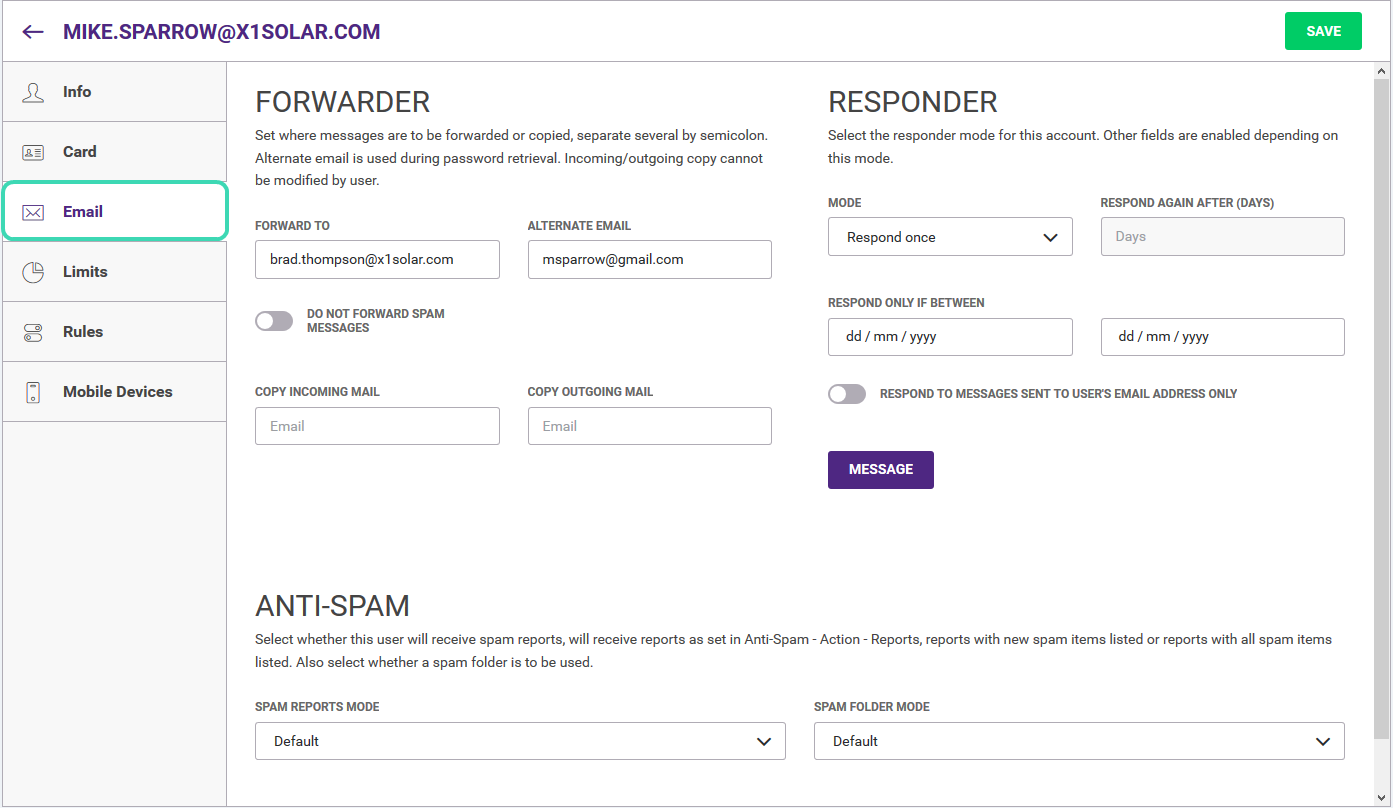 Figure. Email tab.
Limits
Turn the toggles on and enter the appropriate values for the account limits and set expiration of the user´s account.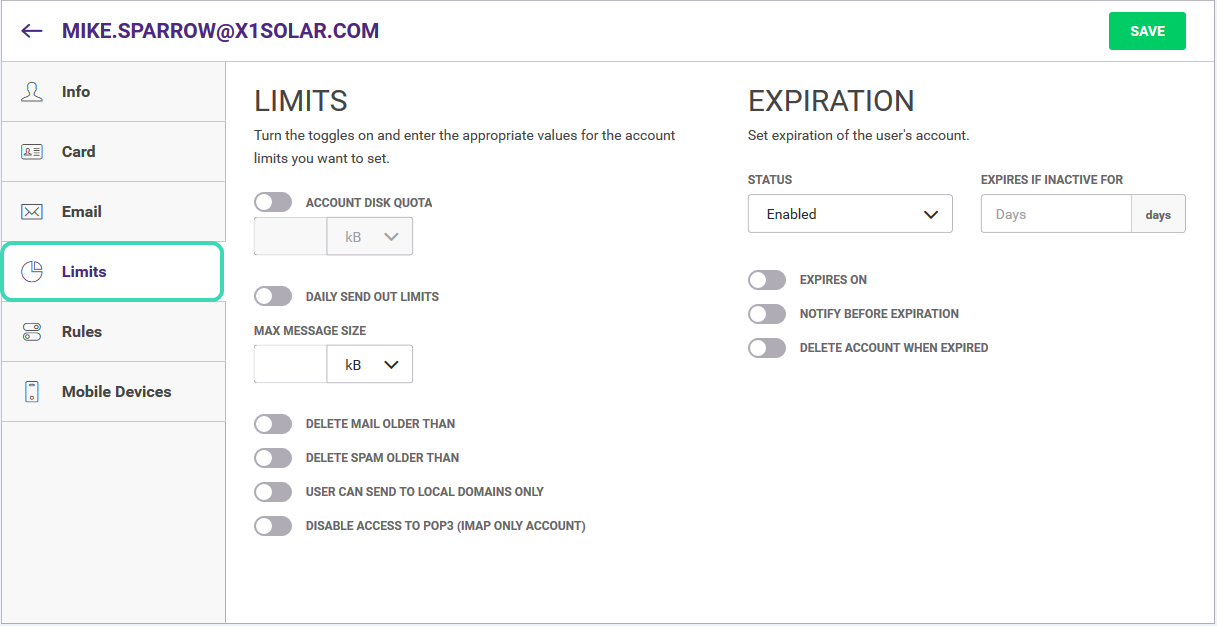 Figure. Limits tab.
Rules
Rules tab gives an access to the rules list, allowing you to define conditions and actions for all incoming emails to account.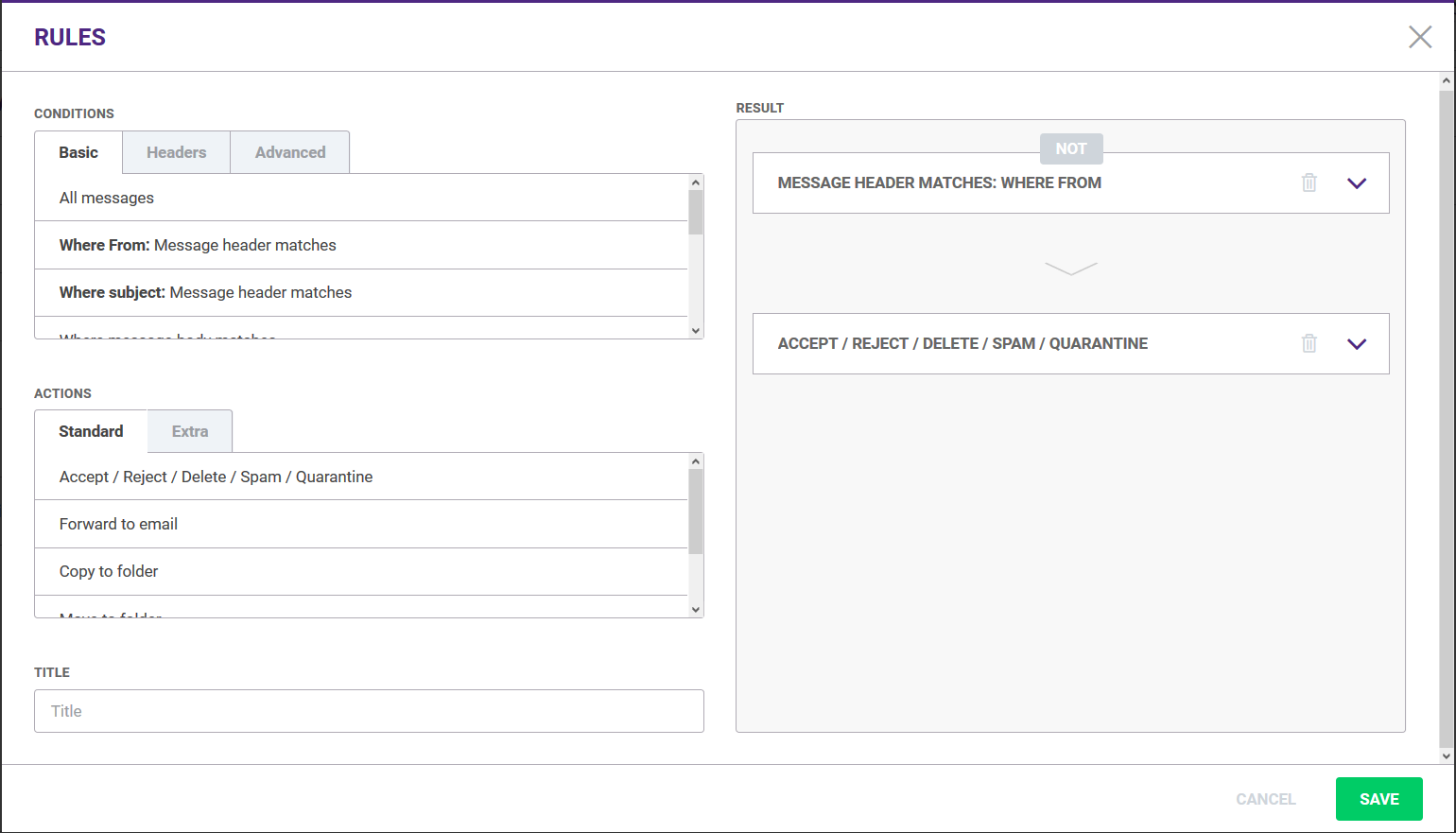 Figure. Rules dialog.
Mobile Devices
Manage any mobile device connected to user's account. For more info, see Mobile Devices Set-up.

Figure. Mobile Devices tab.
Account Statistics
See statistics of a selected domain account.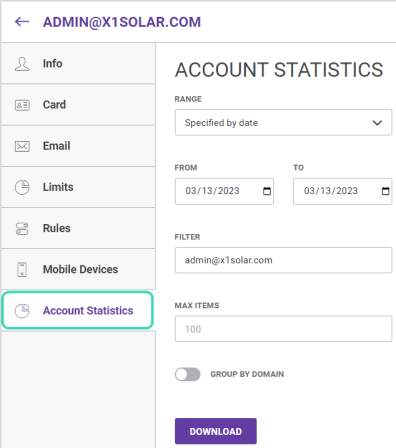 Figure. Account Statistics tab.
To know more about the Statistics report file structure, see Statistics report file structure.