Conferences
Conferences application helps you to stay connected with your colleagues anywhere at any time.
What can you do in Conferences?
Start an immediate video meeting

Schedule a video meeting for exact date and time

Connect to a currently running video meeting

Record a video meeting

See the video meetings history and records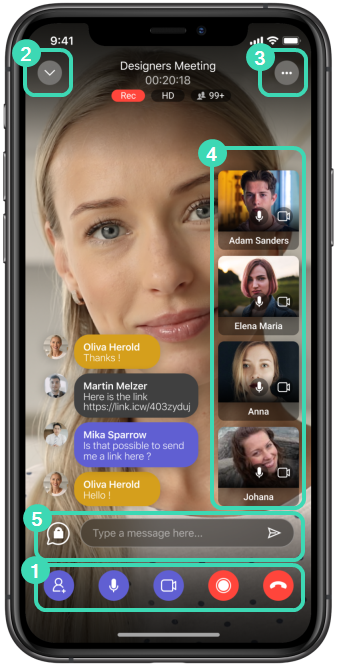 Figure. Conference screen.
Bottom menu
Use bottom menu

to manage your conference:
Click to invite your colleagues

Click to turn on/off your microphone

Click to turn on/off your camera

Click to start recording the conference

Click to leave the conference

Click
to collapse a conference window. You will not leave the conference, it will go to the background mode. In this way you can work with other app at the same time.

Click
to open More options menu.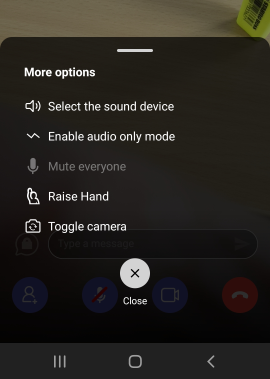 Figure. More options.
Click Select the sound device to select your mean of communication: Phone or Speaker

Click Enable audio only mode to restrict participants from turning on their cameras

Click Mute everyone to turn off all participants' audio

Click Raise hand to notify the participants that you want to say something

Click Toggle camera to switch the camera view from front to back

Thumbnails of all the participants. You can see their names, settings and notifications.

Live chat. Type your message in this field and click

.