Mail Service
The Mail node contains five subnodes:
General:

various settings for the SMTP service.

Security:

comprehensive set of options for stopping unwanted use of your server, defining advanced options such as delays, policy banner, server title, etc.

Rules:

allow you to define content filters, rules, auto clean and external filters.

Archive:

allows you to define backup policy for received/sent e-mails.

ETRN Download:

allows you to define ETRN (or ATRN) collection options.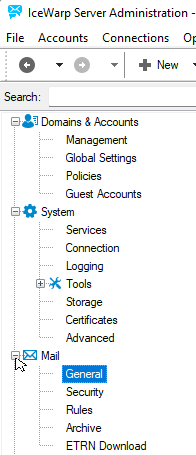 Figure. Mail management.
7-Zip License Requirements
IceWarp Server uses 7-Zip .exe and .dll files for archive operations. 7-Zip is licensed under the GNU LGPL license. The source code can be found here: www.7-zip.org.
For more info, refer to this web page: http://www.7-zip.org/faq.html.