Logging into WebClient
To access IceWarp WebClient, you will need to access the URL specified by your administrator using the web browser.

Figure 1. Example of WebClient URL

You will be presented with a login screen similar to this: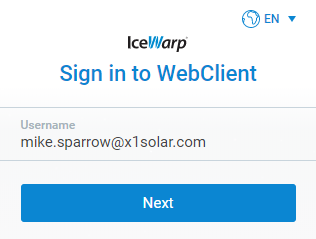 Figure 2. WebClient login screen.
Fill-in your the password, optionally - select Keep me signed in checkbox and press Enter or click Sign in button.
Figure 3. Password input and additional options available in the login dialog.
In the event of forgotten password see Forgot Your Password?